PETER CUSHING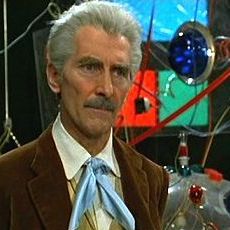 Peter Cushing made two excellent feature films, Doctor Who and the Daleks and Dalek Invasion Earth 2150AD.
The excellent films with the incredible Peter Cushinh available in BluRay ....
DOCTOR WHO AND THE DALEKS

The first big screen spin-off from the television series featuring the infamous Daleks. Eccentric Earth inventor Doctor Who (Peter Cushing) is demonstrating his space/time craft, the TARDIS, to his niece's boyfriend, Ian (Roy Castle), when he manages to whisk them all of to the planet Skaro. There they encounter two races: the blue-skinned, peace-loving Thals, and the bio-mechanical Daleks.

DALEKS INVASION EARTH 2150AD

The earth of 2150 AD is a desolate and hostile ruin of a planet, crumbling at the edge of civilisation, slowly disappearing into the darkness of space. For the future of planet earth now belongs The Daleks, a destructive army of alien invaders who have turned the human race into cowering slaves. Meanwhile deep within the London Underground a group of resistance freedom fighters are planning an attack. But there's only one man who could possibly help them succeed in destroying their extra terrestrial enemies and take back control of planet earth. A man of mystery, a man of time and space, a man known only as… The Doctor.
Below are all the episodes and the available DVDs from the Peter Cushing era ...
DOCTOR WHO COLLECTORS EDITION (DOCTOR WHO AND THE DALEKS AND DALEK INVASION EARTH 2150AD)

Doctor Who and the Daleks has a fun, very well-made 1995 documentary running 57 minutes and recounting the production of both feature films. Included are interviews with various surviving cast members.