DAVID TENNANT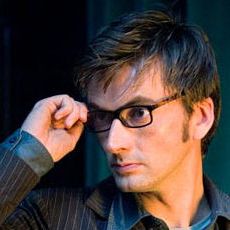 After the fantastic success of the first series we had an excellent replacement with David Tennant, who completed several seasons and Christmas specials.David Tennant played the Doctor as an empathetic, confident and quirky character with a real zest for adventure.
Below are the episodes featuring David Tennant available in BluRay ....
THE COMPLETE SPECIALS

includes The Next Doctor, Planet of the Dead and the two parter The End of Time.

PLANET OF THE DEAD

Michelle Ryan (BIONIC WOMAN) and comedian Lee Evans guest star with David Tennant in this DOCTOR WHO special. The Doctor finds himself on a mysterious desert-planet after the London bus he was riding on takes a substantial detour off course.
Below are all the episodes and the available DVDs from the David Tennant era ...
THE COMPLETE SPECIALS

includes The Next Doctor, Planet of the Dead and the two parter The End of Time.

PLANET OF THE DEAD

Michelle Ryan (BIONIC WOMAN) and comedian Lee Evans guest star with David Tennant in this DOCTOR WHO special. The Doctor finds himself on a mysterious desert-planet after the London bus he was riding on takes a substantial detour off course.

SERIES 1-4 BOX SET

This collection brings together the first four series of the BBC's re-imagined Doctor Who, which was first transmitted in 2005

SERIES FOUR BOX SET

You get fourteen episodes for your money here, and the ones in particular to watch out for are the outstanding Silence In The Library/Forest Of The Dead double header, the almost single-location creepfest that is Midnight, and the trio of Turn Left, The Stolen Earth and Journey?s End that round off the series. In the midst of those is also one of the very best cliffhangers that Doctor Who has ever employed in its long and glorious history.

THE INFINITE QUEST (CARTOON)

The Infinite Quest is the stunning animated Doctor Who adventure series created for the BBC children's show Totally Doctor Who. It aired in 13 episodes during the Spring 2007 and featured David Tennant and Freema Agyeman. Anthony Head guest starred as a new character Balthazar – Scourge of the Galaxy. Featuring spectacular cutting-edge animation technology

VOYAGE OF THE DAMNED

The 2007 Christmas special of Doctor Who, Voyage of the Damned is a rip-roaring, hugely entertaining adventure. With David Tennant in the title role, and Doctor Who fan Kylie Minogue stepping into the role of his assistant, Astrid, the adventure picks up where the third series of the programme ended: with the Titanic crashing into the Tardis.

SERIES 3 BOX SET

Includes all the episodes from the electrifying third series of the new DOCTOR WHO, featuring David Tenant. Episodes include: 'Smith and Jones', 'The Shakespeare Code', 'Gridlock', 'Daleks In Manhattan', 'Evolution Of the Daleks', 'The Lazarus Experiment', '42', 'Human Nature', 'The Family Of Blood', Blink', 'Utopia', 'The Sound Of Drums' and 'Last Of The Timelords'.

THE RUNAWAY BRIDE

Whilst preparing to marry her boyfriend, bride-to-be Donna suddenly vanishes, only to reappear in the Doctor's Tardis. As the Doctor races the Tardis back in an attempt to get Donna to the Church on time, it becomes evident that she is the key to an elaborate alien plan masterminded by the dastardly Empress Of Racnoss.

SERIES 2 BOX SET

The complete second series featuring David Tennant as the tenth 'regenerated' Doctor Who. In 'The Christmas Invasion' Christmas trees and seasonal Santa Claus impersonators begin wreaking havoc on the residents of London. Meanwhile the TARDIS lands on Earth with a new Doctor aboard. The Doctor is not yet fully recovered from regeneration. An invasion of the planet threatens mankind and there's only the Prime Minister to battle it out